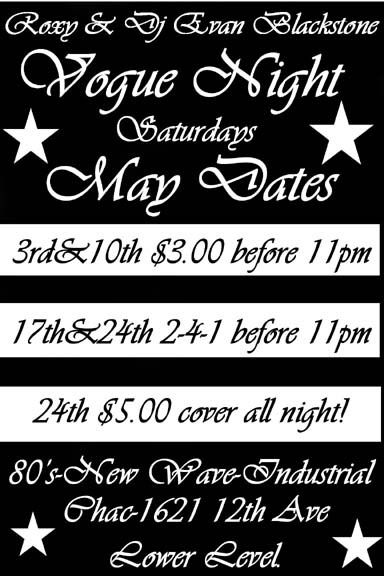 2 for 1 cover tonight
Why I'm DJing of course!
Vogue Night at Club V will be rocking the house this weekend May 17 with DJ's Evan Blackstone and Eternal Darkness. Come out and dance! Get the Goth Groove on!
Door: 10-2
Cover: 6
CHAC Lower Level
1621 12th Ave.
21+ w/ID
And since it has been asked, we have seen this:
http://slog.thestranger.com/2008/05/goodbye_chac_hello_velocity
The CHAC is losing their lease come June 30. We are hopefully relocating to the lower level at Neighbors, the space where we celebrated NYE 2008. The move to Neighbors is pending until further notice. We are on through the rest of May and a few Saturday's in June.
I will keep everyone updated when we decide when our last night at the CHAC will be. Should you have any questions please ask Roxy